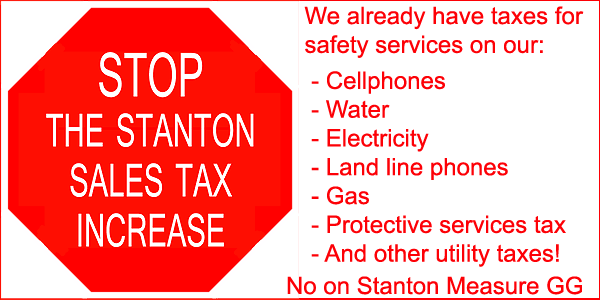 Stop the Stanton Sales Tax Scam! A higher tax will not create jobs. Taxing us residents more will not bring in more businesses. Many say that customers will shop a nearby city rather than shop where the sales tax is higher. What do you think this is going to do to gas prices, soda, restaurant food, etc.?

A sales tax increase will not be used for safety services. The money you pay will be put into the general fund right along with the other money. Remember this is the same argument they used to pass our utility taxes and cell phone taxes. Don't forget that we already passed a special Protective Service tax back in the 80's. What happened to that money?

We cannot afford to lose more employers and jobs. We cannot afford to pay for life-time medical benefits for city employees. We cannot afford to pay more for high employee salaries and retirement packages in our small city. Stop the Stanton Sales Tax Scam this November, 2014!
Rule #1: Do not vote for any council member that
is trying to increase your taxes!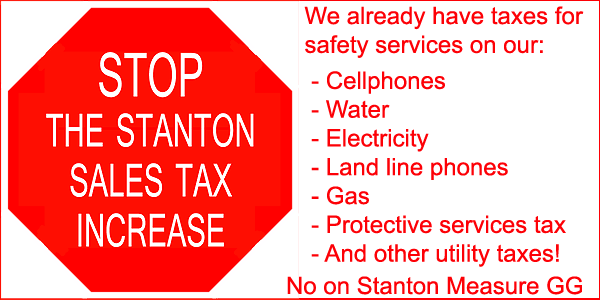 Elect Kevin Carr - Stanton City Council - November 2014
It appears that our City Council won't stop asking for us to pay more in taxes. This is our chance to send a message to our city leaders to let them know that we have been taxed enough already! We need to elect Kevin Carr to Stanton City Council November 2014!

Kevin Carr's Accomplishments:

Fighting the 2014 Stanton Sales Tax increase!
Defeated the 2012 Stanton Utility tax increase!
Worked against the 2001 Stanton Utility Tax!
Worked on the successful defeat of the 1997 Stanton parcel tax!
Saving Stanton Residents more of their own money!


When Elected Kevin Carr Will:

Work to remove the Stanton Tax on cellphones, home phones, water, electricity and other utilities
Vote to fully fund Police and Fire Services
Work to restore employment and business opportunities

Let's elect Kevin Carr to Stanton City Council November 2014!